The Nursery is for those children 0 – 4 years old. The first five years of a child's life is when they soak up information like a sponge. In our SBC Nursery, your child will learn to recite, sing, dance, imaginative play, interact with others and so much more. Our trained faculty will ensure your child's safety as you attend Praise and Worship. Feel free to come over and watch your child experience Christian play through the discrete windows in the door.
Children's Church is for students 5 years old to 12 years old. At this stage in life your child is very active, has many questions and wants to socialize. This all happens in a Christian setting during the Children's Church. Students are engaged in lessons through interactive technology, organized sports, praise dances, Bible-Centered plays, oral presentations and collaborative singing. With trained and certified adults in education, music, dance and art your child will enjoy the learning to express their love of the Faith through their own talents, skills and creativity.
T.I.P (Teens In Progress)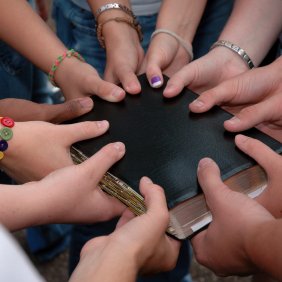 Teens In Progress (T.I.P) consists of teens 13-18 years of age who come together to talk about current situations in their life and how to handle them in a Christian manner. T.I.P is perfect for teens to learn the Word on their level and this is accomplished through the Bible-Center, Pastor Jason Jenkins. Pastor J (as the teens affectionately refer to him) creates a unique and safe atmosphere for your teen to learn, strive, and thrive in their Christian walk.
Each 1st Sunday T.I.P brings to the SBC campus, SBC.TV this is a 5-minute news broadcast that brings the church's news to the congregation. T.I.P members organize, write and record the production. Bring your teen to this enriching fellowship to learn, have fun and strong in the Faith.